June 7, 2014 – First visit to Carver Bank to see the Pentagon Flock House
Turning north from Dodge to 24th street, skirting the eastern edge of the Creighton campus, entering an old and somewhat deserted part of town. Moving north, it begins to dawn on me that the environment is changing. The landscape was sleepy and residential, but now the street signs are eye-catching. Large, bright, celebratory. By the time I reached 24th and Lake I was in a jaw dropping zone of transformation. I imagined myself entering Brigadoon, and looking at another (unseen) sign, "Genius at Work."
I turned into the (free) parking lot at Carver Bank. There was a 5 sided Flock House.  I reached for my camera, got out of the car into damp air following a hard rain, and started shooting.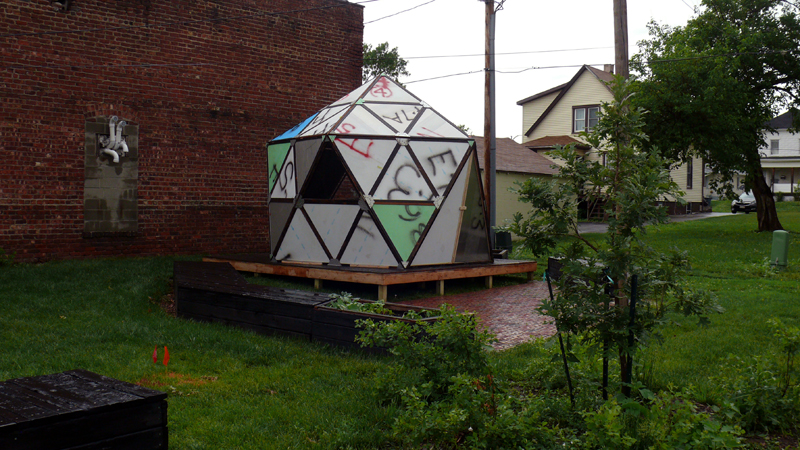 The raised planting beds had beets and tomatoes. A newly planted oak tree framed my shot. The environment framed the Flock House and drew me to enter the Carver Bank building. Amanda saw me through the widow and pointed me around to the front of the building. The former bank front, sandblasted, has a new surface with older words still visible.  Palimpsest. A sign that I recognized as part of my Flock House journey.
I entered a gallery. The art on the walls was colorful geometric painting on wood, cut into pieces and reassembled with electric energy. Carefully crafted, fitted like stone walls at Machu Picchu. A collection of collages drew me closer for study. Each collage, a curation of pattern and color. An imaginary world. My jaw now hung helplessly from its hinges.
Then J appeared, like a temple virgin, with quiet, warm welcome. She was holding her drawing of the Flock House at Carver Bank.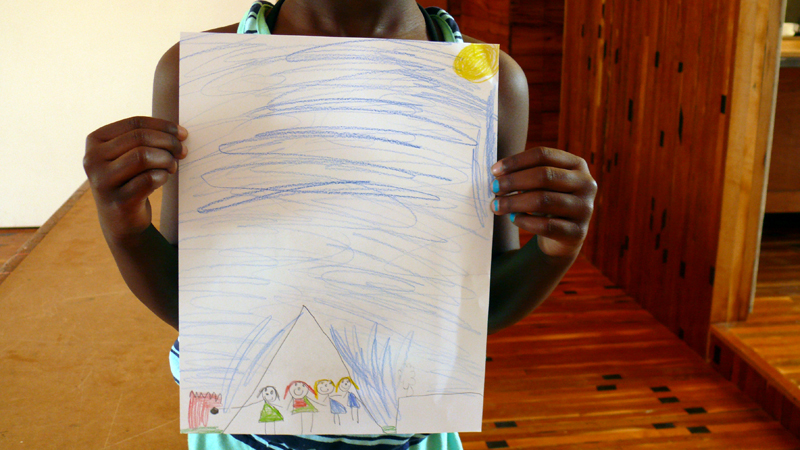 She drew it with Amanda, the Curator of the Flock House Project at Bemis and Carver Bank, who sat in a warm wood-paneled library adjoining the gallery.
Who are these people in your drawing? "This is me" (green dress), and that's Amanda (bright red hair).
Is that a fire? "Yes.  They are cooking marshmallows. They burned it. It is better that way."
Later, I noticed that her drawing also included the raised garden beds with a plant.
Amanda joined us and we went outside, to the Flock House.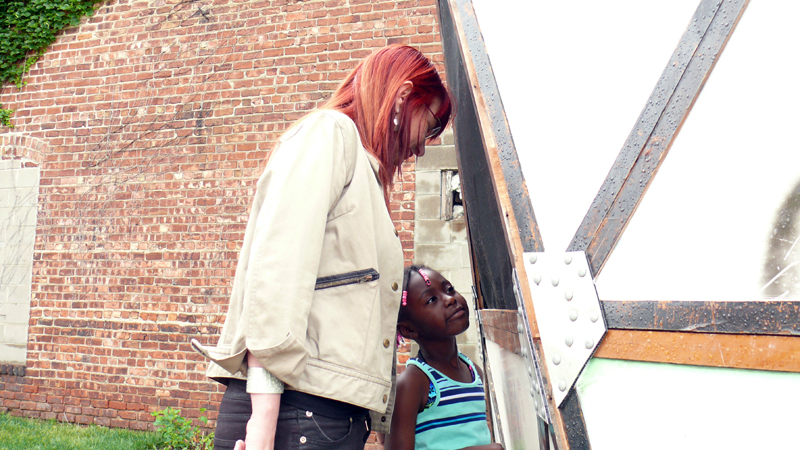 It was beautiful to watch these two in this space. Playful and happy.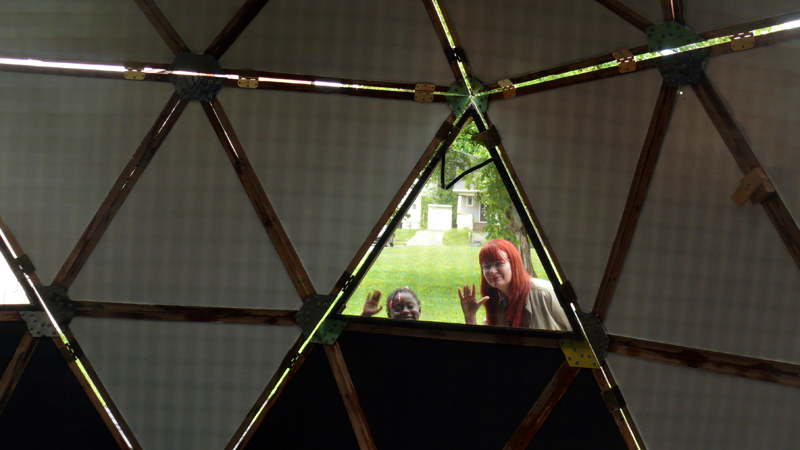 J began to take photos with my camera. When we went inside I saw the artist's studios where 3-D, life-sized roses formed a grid pattern on a board. Was this the work of one of the resident artists at Carver Bank?
Before leaving, I stepped into Big Mama's Sandwich Shop, an extension of Carver Bank. I could not leave without tasting their famous sweet potato ice cream. I was wise to follow my intuition. Scrumptious.